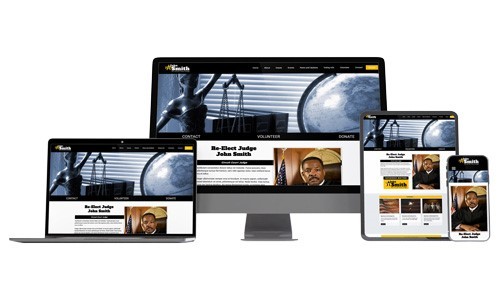 Judicial candidates can use the web to their advantage. A campaign website allows candidates to tell voters about their judicial qualifications and what they plan to do when they serve in court. Voters can use this information to help them make wise a choice when they go to the polls.
Online Candidate® gives judicial candidates the ability to create and update their own campaign website. We provide affordable political website design services.
Judicial Election Website Designs by Online Candidate®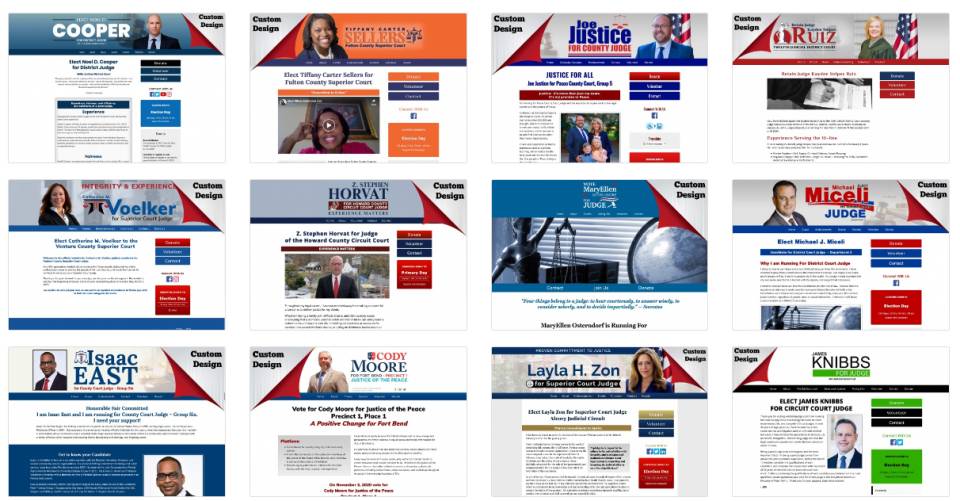 The easy-to-use system makes it simple to add and edit your online message. Recruit supporters, raise funds online, add events and upload files, create contact forms, build an e-mail list and more.
No HTML or programming skills are required. We've helped many candidates create judicial candidate websites that help candidates run and win their elections.
Accept online donations. Online Candidate integrates with PayPal, Raise the Money – or you can integrate any payment processor. Judges and judicial candidates may want to consider LawPay to take online donations.
Recommended Content To Add To Your Campaign Website

Home Page: Create a 'letter to voters', telling them about your campaign, why you are running and what you hope to accomplish if you win. In time, you can update this information to include new developments or to shift your focus from general awareness to campaign support-gathering.
Biography/Resume: Start off with some personal information, and then take your resume and work it into a short biography. Keep your list short and bullet-pointed, but don't simply make it a list of your work history. Work in a few words about what you did in those positions. Electing a judge is more than just about whether are qualified – voters need to like you, as well.
Organizations and Endorsements: Include any organizations you belong to, along with endorsements where possible. Endorsements can also be added throughout your site.
Voter Registration Information: Link to your state's and/or county's online voting registration pages.
Use your website to keep in touch with supporters and send voting reminders before Election Day.
For less than the cost of a mailing, you can have a great-looking website that will help WIN your election for judge. Visit Online Candidate.